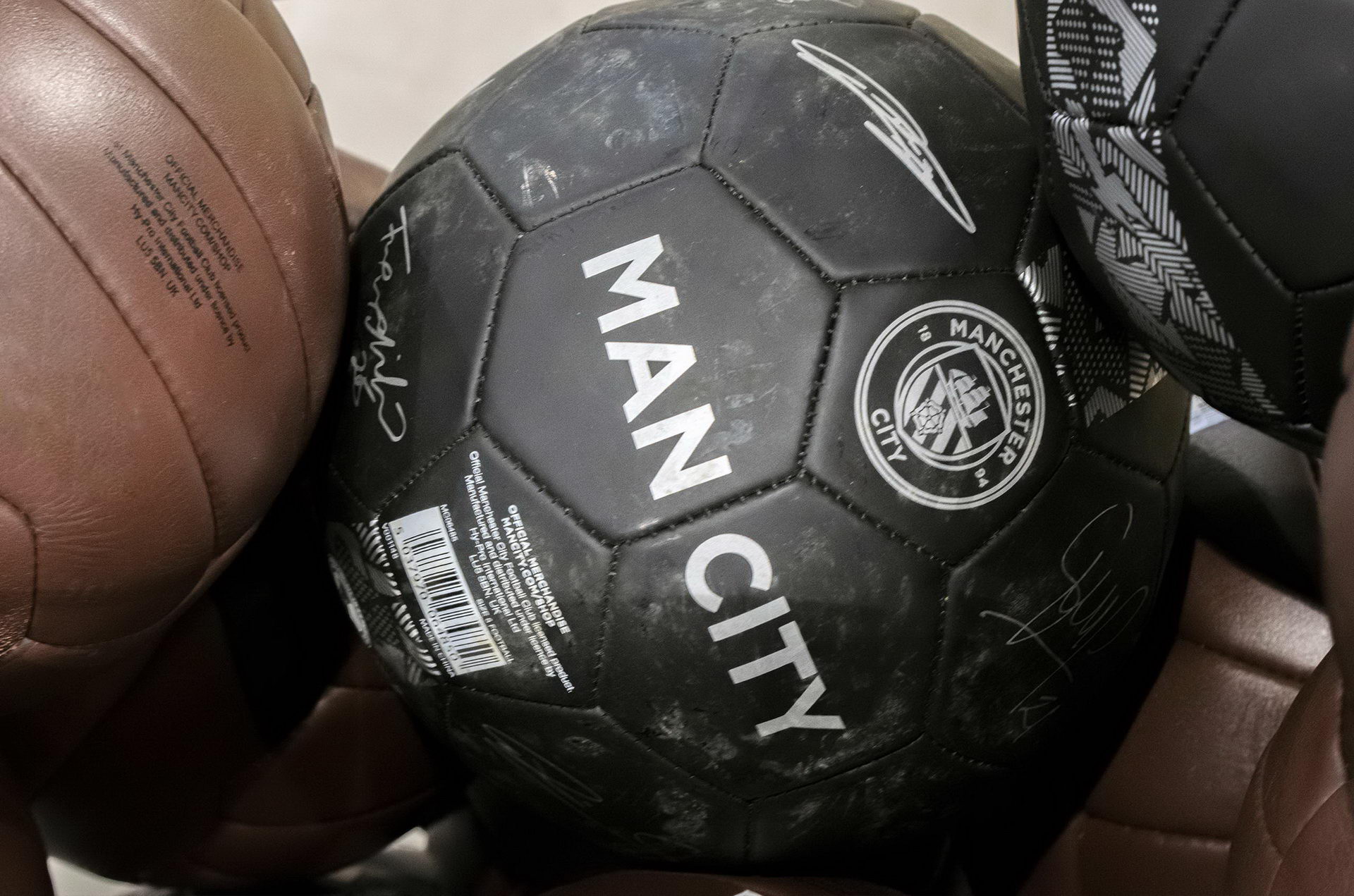 ManCiti Marketing: sponsors, contracts, image
Andriy Franchuk, Creative Director of Brain Tank agency, and Artem Riabov, Commercial Director of Alex Zinchenko Image rights ltd, have already discussed how to invite Manchester City to Ukraine and promote the Kolos brand. Also, they talked about the fans, tickets, club TV rights. The third part of their conversation will be about the marketing contracts of the players and the club "Manchester City." They will discuss what brands and sponsors want, what conditions players must meet, what conflicts are in the market, and whether everything can be agreed upon. After all, what do you need to do to get a salary of about 20 million pounds like Kevin De Brayne?
Andriy: Regime, food, training, games — it's all clear. What else should a footballer do? What additional items are specified in the contract?
Artem: Every City player should take part in media days once a month. Such days are held weekly, but depending on the request, different players are chosen. Relatively speaking, there is a pool of sponsors who want to do integration this week. For example, we have a sponsor of communication from China, and he wants certain footballers to wish a Happy New Year to the whole of China. Or City's training sponsor, Marathonbet, sends a request to the club about players and desired activations. And then the press service decides whether it can be implemented, on what day, etc.
The club is interested in making the game more colorful. Even the pre-match lineup should look interesting, for example, with beautiful players' photos, videos of celebrating goals, videos with some corporate movements, graphics… Creating such intros takes time not only for designers but also for players.
Media day provides many options for activities: painting T-shirts for a fan shop, shooting in advertising or uniform for the next season, creating content for the official channels of the club (Twitter, Facebook, Instagram), shooting for magazines, TV channels, pre-match videos… Possible projects and integrations for personal clothing sponsor resources: Adidas, Nike, Puma… For example, City is now working with Puma, which actively lobbies players signed under its brand and introduces them to Manchester City. Oleksandr Zinchenko, Fernandinho, David Silva, and Sergio Aguero are currently working closely with Puma.
Andriy: Did I understand correctly that other players cooperate with other brands?
Artem: That's right, but even though some players cooperate with other clothing brands, Puma can use them in their projects because it is the title and technical sponsor of the club.
Puma has a contract with Manchester City. Due to marketing and image commitments to the club, Puma's got everyone, for example, the same Kevin De Brayne, even without signing a direct contract with him.
Andriy: What if Kevin De Brayne is signed, for example, with Nike? How will this be resolved?
Artem: Then he plays in Nike shoes during matches but in the form of Puma. Plus he can wear the same Nike in everyday life or during training.
In "City," each player has a contract with his "outfit" (a company that deals with specialized clothing). And even though they are personally signed with Adidas or Nike, they understand important commitments to technical sponsors. No player will think of not wearing a uniform or sticking a logo.
Andriy: Does the player's cooperation not with the title sponsor, but with other brands, go through the club or through the footballer's manager?
Artem: The club does not get anything out of it. But when signing an image contract, their outfitter is noted as an exception. If the same Kevin De Brayne signed with Nike, the club does not interfere, for example, shooting in advertising. In this regard, nothing needs to be agreed through the club, just the player's manager chooses his day off and agrees with the Nike manager on some integration.
Andriy: How much can you earn on advertising contracts, playing in the English Premier League?
Artem: This amount is about 30% of the basic fee. That is, if the salary of Sergio Aguero is about 14 million pounds, then…
Andriy: Tell us more about the signification of the footballer's image contract with the club.
Artem: I will not say for all clubs, but each player must have his own image campaign in the Top 6 of the Premier League. The player has the rights to his image: face, movement, signature… Without a contract, the club can not even make prints with his name on T-shirts. Image property is protected at the level of an intellectual one.
Of course, the club agrees with everyone, but such a contract is mandatory, and it lasts throughout the game season. The more significant your name, the more payments the club provides. For example, the more T-shirts you sell, the higher the bonus is. The more advertising integrations, the more significant the surcharge.
That is, each player is directly interested in such royalties. In some cases, the agreement is made on fixed amounts, in others on percentage. On the other hand, if a player signs an additional advertising agreement with someone, the club may prohibit such cooperation if it is contrary to its interests. After signing the image contract, all personal agreements must be agreed upon with the club.
Andriy: So if I want to play Nike, I have to go to the club and ask to sign with them?
Artem: No, it's not about outfitters. Here is another example: Samsung conditionally called and wanted Sergio Aguero to become their ambassador. But City responds that we are now working with Apple. Then Samsung says they only need Sergio. As a result, the club can make concessions: to agree that the integration was only with Sergio, and from this contract earned not only the player but also the City club.
There are almost never absolute prohibitions and it is always possible to agree. The main thing is not to damage the reputation of the players and the club.
Andriy: Can you tell us a non-standard or trash case with contracts and integrations?
Artem: The first thing mentioned is the story of a player from Juventus who has a valid contract with Puma but who wears Adidas for principle. Puma fines him, fines and fines, stubbornly stands his ground, and even signed a parallel contract with Adidas.
To be honest, I have little understanding of how this happened, but they somehow bypassed the Italian legal system and rewrote his image rights to his brother to do another image campaign and transfer the rights there. Now there is a big process with the reviews and who owns the rights, Adidas or Puma.
Such stories also happen, but in general, in my practice, I did not meet any trash. We can say that other bookmakers do not like to sign, as each club has its own bookmaker who supports them. And if the player receives an offer to cooperate with another company, the main bookmaker will be strongly against it and will do everything possible to prevent such a contract. Apparently, this is the only controversial topic.
Andriy: How fair is the game in world practice? Judging by the example of Adidas and Puma, people are willing to take any risks for the sake of their contract. This situation even sounds strange.
Artem: Now there is a lot of competition for teams in the Premier League. For example, Puma has signed a 10-year contract with Manchester City, which is about 800 million pounds. Adidas has a contract with Manchester United, and they have paid £ 1 billion in 10 years. The struggle is being waged at a very high level only to ensure that the big football brand wears a world brand of sportswear.
Now Puma goes to a completely different level — they make new collections, new advertising integrations, collaborations with clubs and athletes… Their goal is to reach an annual turnover of 10 billion in 5 years. Of course, it won't be easy for them to rise to the level of Nike and Adidas. But, according to my information, in the first quarter, Puma sold more football boots than Adidas.
In 2019, Puma first appeared in the Fab 40 ranking. Forbes gave it 6th place in the "Companies" category. He estimated the brand, i.e., the name, at $ 4 billion. In the first nine months of 2019, Puma rises in price by 60%. Then began the difficulties with sanctions, pandemics, etc., but the overall trend of the brand is just perfect.
Andriy: In your opinion, to what extent does the contract with City help Puma capture the market? Relatively speaking, everyone in Manchester began to wear this brand?
Artem: It helps a lot. First of all, it raises your brand's reputation, that is, you can afford a club like Manchester City. Secondly, it's always in vision — a lot of advertising all over the city: Puma… Puma… Puma… This is our city… Manchester City and Puma… It looks very cool and very striking. Accordingly, people began to respond and buy clothes of this brand.
The most common example, open instagram.com/mancity and see about 21 million subscribers. Is not it a good contribution to the money box of potential buyers?
Andriy: How do City and United United get along in Manchester? What do more people wear: Puma or Adidas?
Artem: There are more City fans in our city because most Manchester United fans are visitors living outside the city. That's why Manchester has more blue colors and Puma.
Andriy: For several years now, Barcelona and home appliance manufacturer Veko have been running an Eat Like A Pro campaign and fighting childhood obesity. Which brands are most interested in football teams?
Artem: If we talk about the English Premier League, this year, half of all clubs were titled sponsors of bookmakers. In my opinion, this situation kills the market for other players because bookmakers have a lot of money, and many companies can not compete with them.
Andriy: And besides clothes and bookmakers? For example, Real club drives Audi.
Artem: Audi now has an agreement with Bayern Munich. All club players, when signing a contract, undertake to ride in cars of this brand. We can say that they hit BMW in the heart.
But Jurgen Klopp has a contract with Opel, so he goes on training in this car, but in everyday life, drives other brands.
Manchester City now has a contract with Nissan, but almost no one drives it, as there are no strict regulations. There is only one model line, interesting for players, a GT-R.
Andriy: What is important for the car brand: to cover the market, which does not see what the players really drive, or to show everyone that these players choose their cars?
Artem: I think that Nissan Day is more of an image story, that we work with Manchester City and they can drive our cars. That is, it all depends on the arrangements between the club and the sponsor.
Andriy: What other brands are represented. For example, almost everyone on the benches drinks, but without brands.
Artem: Well, Heineken took the stands. Of course, the beer in the hands of the players would look strange. However, the same Ramos and Marcello from "Real" are the face of Budweiser, although they advertise only soft beer.
I have noticed that lately, footballers have fewer restrictions to realize themselves as a brand. The same alcohol or energy drinks are no longer a problem. The player can even sign with a whiskey sponsor. The main thing is that the club does not have a sponsor-competitor, and in the integration mentioned age restrictions and moderate consumption. In this case, the player maintains his positive status because he warned that you need to drink in moderation.
Andriy: What if there is legalization in England?
Artem: What is not forbidden is allowed. For example, some fighters are now advertising CBD hemp oil — legal soothing marijuana drops. Maybe in time, this story will reach football.
At the same time, society itself is the main filter of what an athlete can advertise. If it does not cause a public response and does not offend anyone, then why not. On the one hand, all clubs are open to advertising; on the other — strictly monitor its submission. For example, if there is a risk that the Muslim community will oppose signing a contract with an alcohol producer, it is better to avoid such conflicts. When Real came to Turkey to play with "Galatasaray," they played without a title sponsor, namely a bookmaker. I will repeat that fans largely form the club, and their opinion is listened to even before they express it.
Andriy: How are problems solved in advertising contracts? For example, the image of a player was used without his knowledge or not on those terms. What are the levers of influence?
Artem: We have everything simple: I am the director of the image campaign, and I have a direct contract with Oleksandr Zinchenko and a direct contract with the Manchester City club. Because image rights are transferred to the club, I notify them of an offense, such as using a player's image without the club's permission. Then the lawyers of the club take up the case.
Andriy: What if the image of Oleksandr was not used in a City T-shirt, but simply in flip-flops and shorts?
Artem: If a player is just in flip-flops and someone has photographed him, then this photograph is owned by the photographer according to the laws of England. He can send it to the media or print it on T-shirts. This is his personal intellectual property.
But if we are talking about commerce, for example, printing a photo on a company's billboard, it is a violation of copyright. We have a patent for the signature, face, name, and surname of Oleksandr. If we find our player somewhere in Vynnytsia was used without the appropriate permission, Manchester City lawyers will contact them even if Oleksandr was not in the club's T-shirt, for example.
Recently, there was a story when Shakhtar played against City, and the bookmaker published a photo of Oleksandr on its poster: one half of the T-shirt was from a Ukrainian club, the other from an English one. As a result, "City" made a very stern remark that if something like this happens again, these bookmakers will face a significant lawsuit for reputational and image losses of the club. In other cases, it goes without warning and can immediately bring a lawsuit of up to 100,000 pounds for single use of the image without approval. However, it all depends on the situation.
Manchester City, like other top clubs, can reach out to any brand from any country to defend their interests.
Andriy: If we talk about the game and the image of Zinchenko in the national team of Ukraine: can "City" set its conditions and regulate sponsors?
Artem: The national team is the only exception when Manchester City has no power. The team has its sponsors, and the image of Oleksandr in the national team T-shirt has nothing to do with the English club.
Andriy: If a brand in Ukraine wants to sign Oleksandr as a City player, how is the process going?
Artem: The club agrees on all guidelines, considers reputational risks and whether this brand is a direct competitor to their sponsors. But even in the latter case, you can agree, using different conditions: either a percentage of the deal will go to the club, or advertising will be only for the domestic market of Ukraine, etc.
Moreover, we can talk not only about Oleksandr but also about other players. The club considers even relatively small local markets. It's all about arrangements and budgets.