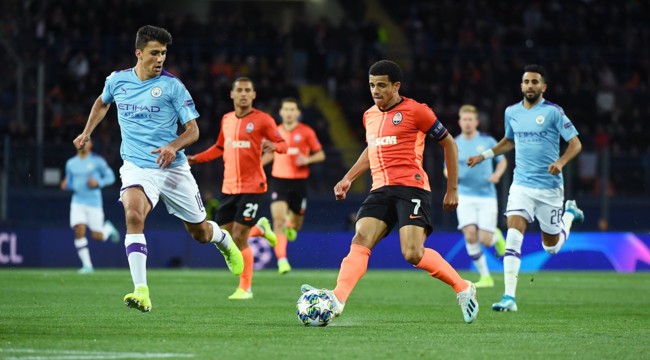 Marketing insight from "Manchester City"
Almost all football life in Ukraine takes place exclusively on the field. It starts with the first referee's whistle and ends 90 minutes later. In England, this topic is on a completely different level. Both clubs and individual footballers carefully build their brands — they participate in various campaigns, constantly show themselves in social networks and the media, do charity work and sign millions of advertising contracts…
For example, in 2019, Manchester City ranked fifth in revenue among all football clubs in the world. In the same year, Forbes valued the club at $ 2.7 billion.
Can the ManCity experience be useful for the Ukrainian sports market? This is the topic of conversation between Andriy Franchuk, creative director of the Brain Tank group, and Artem Riabov, commercial director of Alex Zinchenko Image rights ltd (Manchester City).
Andriy: More recently, investors have raised Manchester City to a new level. How did this transition happen? What changed in advertising and marketing at this time?
Artem: The uniqueness of City is that the club has built a team both on the field and outside it. There is a huge crowd of people doing important administrative work. The City team are professionals who love their club, their work and know what they are doing. It was the people off the field that formed the team. I.e., until an excellent team is formed, it makes no sense to invite football stars.
Three aspects contributed to Manchester City's rise to the next level:
Specialists who appeared after the arrival of Sheikh Mansur. Investments have generated opportunities to create new jobs and invite the best.
Inviting expensive footballers who have raised the club's image.
Competent organization of pre-season tours to Asia and America. Those. developing a new audience who will love your club.
Andriy: Artem, tell us briefly about the organization of the marketing department in City?
Artem: The club has 6 team administrators, responsible for organizational issues and monitoring all the nuances of successful and unsuccessful manifestations of the club's brand and its individual players. There is a separate department with 5 photographers. There is an SMM department of about 15 people: copywriters, photographers, cameramen. In addition, each player has his own managers, agents, and other assistants who take over the work with the footballer's brand. This whole team works for the club's interests and its specific players so that, as a result, one and the other can conclude better contracts.
Andriy: Where do such office fighters come from, and where to look for them? What should the conditional Dynamo or Kolos do to raise their rating?
Artem: Invite experienced foreign specialists who have a different view and new knowledge. If there is no infusion of fresh brains, everything will remain at the same level. For example, the City administration employs Englishmen and Spaniards, Italians… which refreshes the club and helps it experiment and grow.
You can use the same LinkedIn. Create an open vacancy, and dozens and hundreds of requests from people who graduated from prestigious universities or graduated from work in one company and want to gain experience in another will fall on you. In England and the EU, people receive higher education in specialties ranging from "sports management" to "club management." It is clear that this is a theory, but this base is an excellent foundation for building models that can be beneficial for a particular club.
Andriy: What kind of money can we talk about if we consider the services of a person who understands sports management? How much do you need to pay, for example, to Kolos so that after Manchester City you come to work with them?
Artem: The average salary of a commercial director is 70-100 thousand pounds a year. I think, I would agree to move to Ukraine for USD 5-7,000 per month. However, it all depends on the project. If it is raw, then for greater responsibility and a higher price tag. If we are talking about the conditional "Dynamo," this is a plus for me, as it is interesting to work with such a brand.
Andriy: How do you choose sports managers? Is it enough for a person to work in Barcelona, for example?
Artem: The Barcelona experience doesn't have to be decisive. Much more important is whether this person will fit the system and the management style already developed in the club. Everything is trite: HR must create a vacancy and describe the tasks, conditions, fees… And then gather everyone who wants to and send them through a couple of interviews.
Andriy: How realistic is it for a specialist from Manchester or Munich to understand all the peculiarities of national football from the Kolos club from the village of Kovalevka?
Artem: I can't speak for everybody, but for me, it's quite easy and realistic. There is a task, it needs to be done, and the main point for the pros is to make the work useful. It seems to me that this is a topic of the European mentality. Many top English clubs are located in the villages, for example, Leicester City… Although, of course, Leicester is slightly larger than Kovalevka.
Andriy: You said that the competent organization of the preseason tours helped your club a lot. Tell us more about this story and about winning fans' hearts on other continents?
Artem: Why is football popular in Asia? Because they play it badly and it is interesting for them to look at those who can. Also, in many other countries, many people cheer for other countries' clubs. Therefore, trips to those countries will only strengthen the love of fans and attract new ones.
When City went to Asia for the preseason, all the players participated in activities with fans, media, partners, sponsors for 3 hours a day. This strengthened the club's position in this market, after all, Barcelona, Manchester United, Real are already present here...
In my opinion, the next major step for City is the signing of an Asian player, which will blow up the market. Which club in LaLiga do you think has the largest online viewership? This is the Espanyol club, in which the Chinese player Wu Lei plays. Accordingly, half of China follows their fellow countrymen.
Or take the same Tottenham. I was at one of their games because half of the stadium was occupied by Koreans who came to support Son Heung Min. Or the Korean footballer Park Chi Sun, who has attracted many new fans to the ranks of Manchester United. And all these fans paid a lot of money for T-shirts with his name, for the opportunity to come to the stadium or visit the club's museum.
Football is a huge business, and the club must earn money. City has been in the black for several years now, but we are constantly improving the club, attracting new fans, and retaining old fans. I think that many Ukrainian clubs have chances to make good money. You just need to revise the strategy and update the team that is in charge.
Andriy: How is soccer developing in America? They know the show, business, sports, and sports showbusiness, isn't they?
Artem: I believe that now the MLS is one of the most successful marketing leagues. Over the past 10 years, the popularity of soccer in America has grown by 200%. Each club has its own fans and stadiums to fill.
Let me give you a unique case. First, FC Miami Inter was created in the media space and only then appeared in reality! But the main thing is that even before its existence, it had half a million followers on Instagram and was selling equipment! The club's managers just played on the love of Americans to support natives, and of course, they invited Beckham, who gave impetus to the club's image. In principle, MLS rose a lot due to the fact that they attracted eminent players who had already ended their careers: Ibrahimovic, Pirlo, Anri…
Andriy: There was no club, but there were already fans and sale of "merch", are you serious?
Artem: I think if, let's take, Rebrov and Shevchenko took under their leadership, let's say, а FC Oleksandria and planned to restart it in two years, this could lead to a good result now, even before the restart. You just need to build the right strategy: appear in the right places, open an academy, talk about the development of the project… There is a club from the 5th division in England, and they have 250,000 subscribers on Instagram. They sell a colossal amount of equipment, they opened a new stadium for 11,000 people, and it fills up completely. All this is thanks to the right marketing strategy and the club's and footballers' brand development. However, it helps that the club shareholders are another team players — Manchester United.
It seems to me that you should not be afraid to experiment. You need to try all possible options to attract new fans and develop the club's brand.
Andriy: How much might City's arrival to Ukraine and match cost?
Artem: I don't think it's even a matter of money. It's just that Ukraine is not the most strategically important region for the club. And the amount is probably about several million per match because all these maneuvers must take place at the highest level in terms of service and safety.
Andriy: What do clubs need to do to become more successful?
Artem: Firstly, invite top specialists and top players. It is this synergy that will give a good result. Secondly, open up new horizons and constantly expand the market in which you operate. Third, don't forget and actively use your local audience. If this is a team from Kyiv, then it should become the club with which the city is associated. Residents of the entire capital should feel like they are part of a big football family.
Andriy: Cool advice, I think they are very useful. I'd like to add a couple of thoughts that can help brands:
Strategy first, then creativity. This is the foundation.
In any team, everyone should do his/her own work.
A good brand adds value + 30% profit.
People may love a brand more than a product. For example, the same London Arsenal plays rather weakly, but its matches are gaining 400 million views.
It is possible and necessary to use the international experience of England, the USA, and the EU. Better to make a strategy with a predictable result.