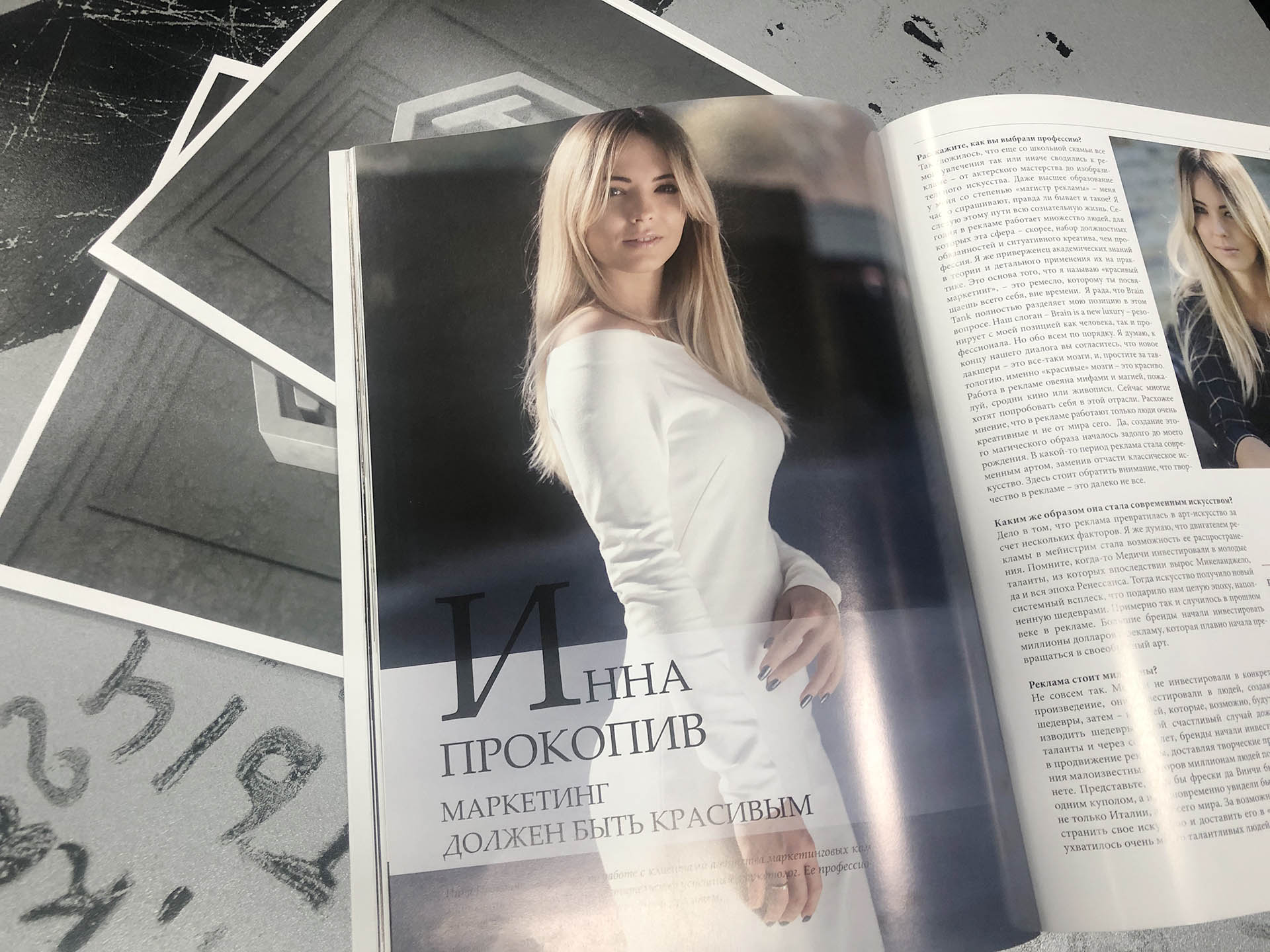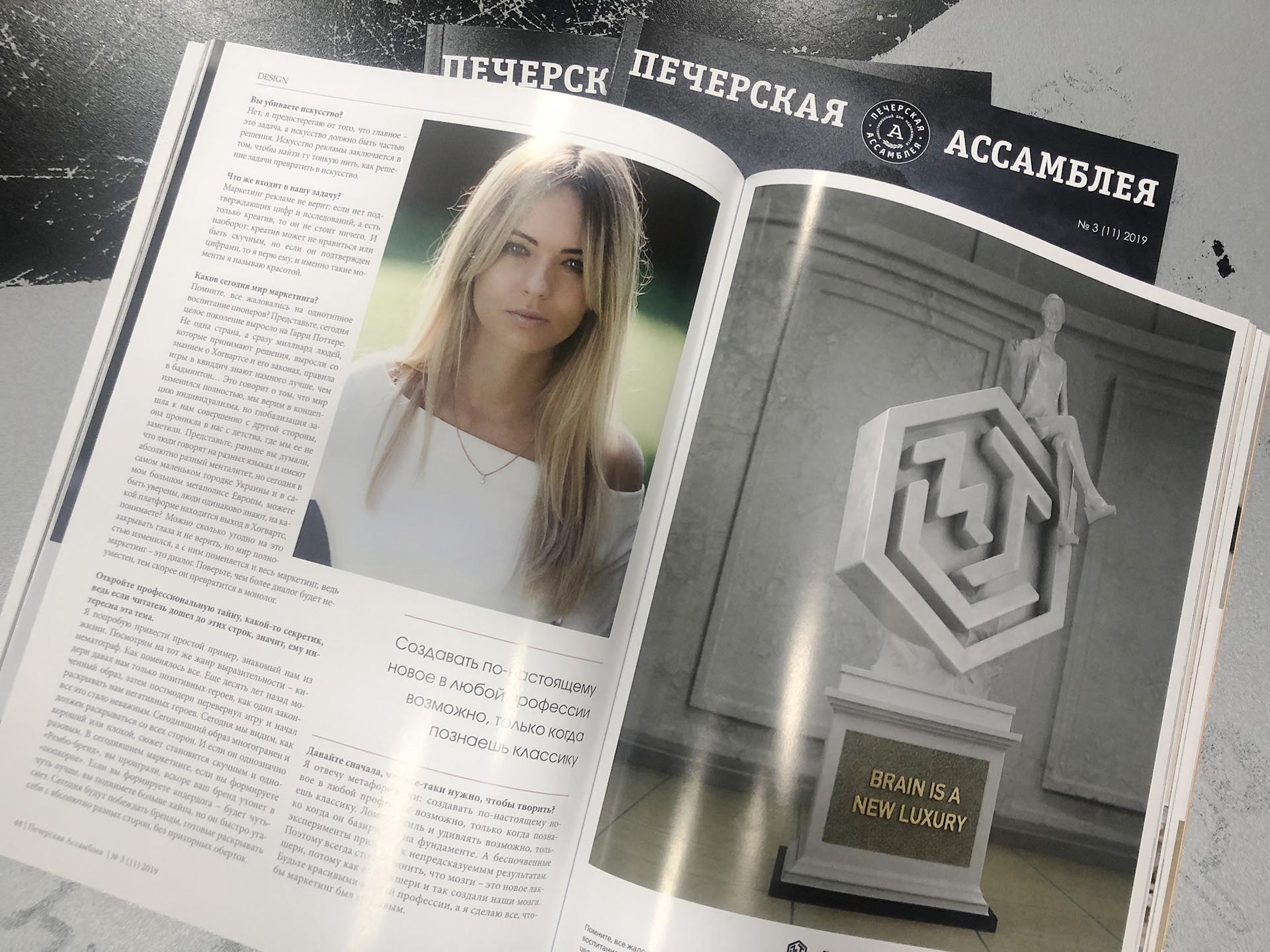 Marketing should be beautiful
Inna Prokopiv, Brain Tank Marketing Director and a successful marketer, gave an interview to the Pechersk Assembly journal. Her professional position: Marketing should be beautiful.
How did you choose a profession?
It happened that since school, all my hobbies somehow touched advertising, from acting to fine art. Even my higher education is with the "Master of Advertising" degree. People ask, how can this be true? I follow this path all my conscious life.
Today, many people working in advertising go there just for a set of job responsibilities and situational creativity than a profession. I am a supporter of academic knowledge in theory and its detailed application in practice. This is the basis of what I call "beautiful marketing" – it is a craft you are devoted to completely.
I am glad that Brain Tank fully shares my position on this issue. Our slogan "Brain is a new luxury" resonates with my position as a person and as a professional. But first things first. I think, by the end of our dialogue, you will agree that the new luxury is, after all, brains, and, sorry for the tautology, "beautiful" brains are beautiful.
Work in advertising is covered in myths and magic, like cinema or painting. Nowadays, many want to try themselves in this industry. The conventional wisdom is that only people who are very creative and out of this world work in advertising. Is it so?
Yes, the creation of this magical image began long before my birth. At some point, advertising became a modern art, partially replacing classical art. It is worth paying attention to the fact that creativity in advertising is not all the thing.
How did it become a contemporary art?
The fact is that advertising has turned into art due to several factors. I think that advertising has become the mainstream due to the possibility of its spread.
Medici invested in young talents, from which Michelangelo subsequently grew, and indeed the entire Renaissance. Then art received a new systemic surge, which gave us a whole era full of masterpieces.
This is exactly what happened in advertising in the last century. Big brands began to invest millions in advertising, which gradually began to turn into some sort of art.
Is advertising worth millions?
Not quite. Medici did not invest into a specific work, they invested into people creating masterpieces, then in people who might produce masterpieces. Talents awaited their lucky chance, and after hundreds of years, brands began to invest in advertising promotion, delivering creative works of little-known authors to millions of people around the planet. Imagine if da Vinci's frescoes were not under one dome, and at the same time, they could be seen by all Italians and worldwide. A lot of talented people grabbed the opportunity to spread their art and deliver it to "every house".
Advertising is just an art form, isn't it?
Not at all. Otherwise, we would not have seen the formation of brands. Advertising as art and creativity is just the tip of the iceberg. Today, about 80% of advertising displayed on Cannes Lions is unprofitable or unjustified as a solution. Rather, it was created to maintain this magical image or the ability to promote their creativity by masters. But that is far from all.
Advertising itself, in turn, is a point on the marketing map. It would be great if pure art helped brands reach their goals. In this case, Kyiv would become a museum consisting of five thousand works of art hung over all the tracks and in every elevator of the city. It sounds great in terms of aesthetics but utopian in essence.
Here stands the main internal struggle of man. It is important to find the moment when the desire to create works of art prevails over the tasks of the brand. Many creative directors come across this, it is challenging to deal with this, but this is part of my daily work.
Do you kill art?
No, I mean that the main thing is the task, and art should be part of the solution. The art of advertising is to find this thin thread: how to turn a problem solution into an art.
What is included in your task?
Marketing doesn't believe advertising: if there are no supporting figures and studies and only creativity, it costs nothing. And vice versa: a creative may not excite you, but if numbers confirm it, then I believe it, and it is these moments that I call beauty.
What is the world of marketing today?
Remember, everyone complained about the typical pioneers' upbringing? Imagine, today, the whole generation grew up on Harry Potter. Not one country, but just a billion people who make decisions, grew up with knowledge of Hogwarts and its laws, the rules of Quidditch are much better known than badminton ... This indicates that the world has changed completely, we believe in the concept of individualism, but globalization came to us from a completely different perspective; it penetrated us from childhood, where we did not notice it.
Imagine some time ago we thought that people speak different languages ​​and have a completely different mentality, but today in the smallest Ukrainian town and in the largest European metropolis, you can be sure that people equally know what platform you should take to Hogwarts, understand? Believe it or not, the world has completely changed, and all marketing will change with it because marketing is a dialogue. Believe me, the more dialogue is inappropriate, the sooner it will turn into a monologue.
Could you share some professional secret to the reader who has reached these lines and is interested in this topic.
I will try to give a simple example from life. Let's look at the same genre of expression – cinema. Everything has changed. Ten years ago, modern only gave us positive heroes, as one complete image, then postmodern turned the game around and began to reveal negative heroes to us. Today we see how this has become unimportant. Today's image is multifaceted and should be shown from all sides. And if it is definitely good or bad, the plot becomes boring and one-time.
In today's marketing, if you form a "Rambo-brand", you'll lose, your brand will soon drown in popcorn. If you form an "Underdog", it'll be a little better, you will raise more hype, but it will quickly fade away. Today brands that are ready to reveal themselves from completely different sides, without sugary wrappers, will win.
In conclusion, what do you need to create?
I will answer metaphorically: to create something truly new in any profession; you need to learn the classics first. Is it possible to break the style and be surprised when it is based on the foundation? And groundless experiments lead to unpredictable results. Therefore, it is always worth remembering that brains are a new luxury, because all luxury has already created our brains.
Be beautiful in your profession, and I will do everything for marketing to be beautiful.